If you've ever attempted fitting full-size sheets on a queen-size bed, then you know it can be quite stressful and difficult. This is because they are different sizes and are not created for each other. However, this doesn't mean full-size sheets can't fit a queen-size bed – in fact, they can with a little extra help.
Here we will answer the question – do full sheets fit a queen bed? So, keep reading to find out how to keep using your full size sheets for a queen size bed.
What is a Queen Size Bed?
A queen-size mattress is 60 inches wide and 80 inches long. This puts the queen-size bed at 5 feet in width and 6.8 feet in length. If this is a little confusing, we'll provide a bit of contrast to give you a clearer image. A queen-size bed is smaller than a king-size bed but larger than a double bed.
A king-size bed is the same length, but it is 16 inches wider than a queen-size bed. This puts a king-size bed at 76 inches wide. A double bed, on the other hand, is 6 inches narrower and 5 inches shorter. This places the double bed at 54 inches wide and 75 inches in length. A queen-size bed is a large bed that is great for taller people, couples, or people who just prefer a lot more space.
What are Full Sheets?
Full-size sheets are also called double sheets because they are made for double beds. Full-size sheets that are fitted are usually 75 inches in length and 54 inches in width. This is the perfect size for a double bed. Full-size flat sheets, on the other hand, can be up to 96 inches in length but 81 inches in width.
Fitted sheets are sheets with the elastic band sewn into the edges, so the lower edges of the bed are tucked into the sheets. Flat sheets are completely flat with no elastic bands. Fitted and flat sheets are both variants of full-size sheets.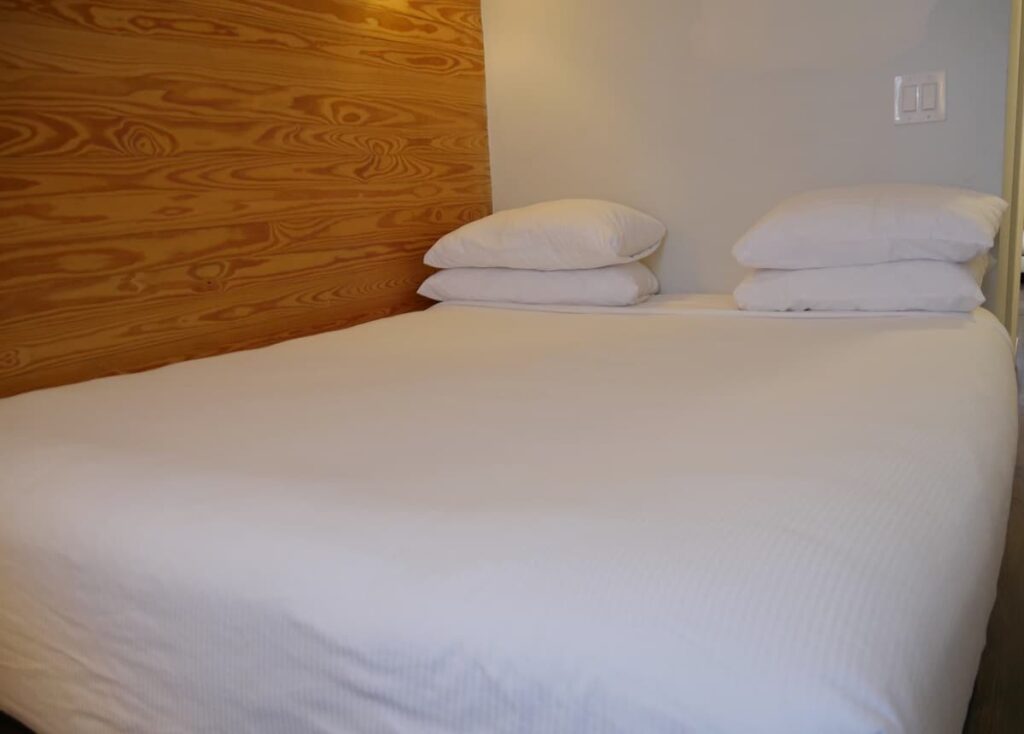 How Can You Use Full Sheets On a Queen Bed?
If you recently purchased a new queen-size bed as an upgrade from your double bed, it can be stressful and expensive to search for new queen-size sheets to fit your bed. You can still make good use of your full/double sheets.
It is possible to use full-size sheets on a queen-size bed. However, they must be full-size flat sheets. Full-size fitted sheets could work for the length of a queen-size bed, but they will not fit across the width without additional help. If the bed is only being used by one person, then you can use full-size fitted sheets and sleep on the side the sheets are laid. Full-size flat sheets, on the other hand, can work, so let's look at a step-by-step tutorial on how to make them work.
Step 1 – Purchase sheet straps. Sheet straps or sheet suspenders are straps attached to the edges of your sheets to ensure they stay on the bed and don't slip off even when they're not the perfect fit. Sheet straps are used for fitted sheets, but they can be used for flat sheets as well.
Step 2 – Ensure the bed is completely flat. Some people have mattress pads, protectors, or pillows attached to the bed. These should be removed before attempting to use full-size sheets. The mattress should be a completely flat surface. If you can't do without mattress pads, consider replacing them with folded blankets and comforters.
Step 3 – For those with bed frames and no sheet straps, consider tucking the sheets into the frame. This should be perfect for the length. You will have over 10 inches of the sheet left over on the long side. This gives you more than enough material to tuck into the sides of the bed frame. The width should be the exact fit with no tucking. Full-size sheets are 81 inches long and queen-size beds are 80 inches long.
Step 4 – If you have sheet straps, then follow the rest of the tutorial. Once you lay the full sheets on your flat mattress, ensure the sheets are smooth and flat. Then, grab your sheet straps. They are very affordable and should come in a pack of 4 because you'll need 4 straps for all 4 edges.
Clip the corners of your sheets with the sheet straps, and then drag the straps underneath the bed to keep them tucked in, neat, and out of sight. When this is done, you can proceed to use comforters, blankets, or whatever suits your fancy.
Step 5 – For those who are skilled at sewing, you could attempt adding some extra material to the sides of your sheets or even adding elastic bands to ensure they fit. This can be a long and stressful process if you do not know the basics of sewing.
Conclusion
This is a quick tutorial for those who need help with this issue. It is easily solved and doesn't need to cause you a headache. You can save money on new sheets and enjoy your full-size sheets for much longer. With a little maneuvering and extra help, it is possible to use full-size sheets on a queen-size bed. Follow our step-by-step tutorial and let us know how well it worked for you!